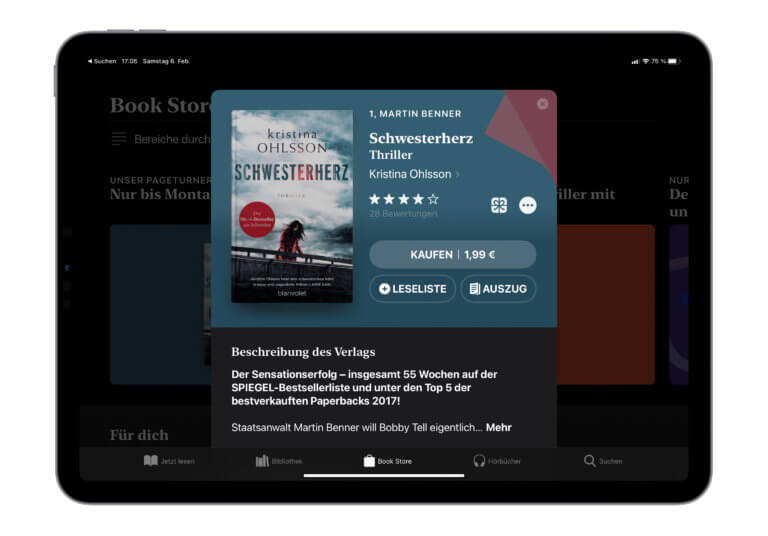 The new onset of winter with the arctic temperatures invites you to snuggle up on the couch at home. A good book goes with that, of course. You guessed it: The Pageturner is back.
Prosecutor Martin Benner actually wants to get rid of Bobby Tell as quickly as possible: This unkempt, cigarette-smelling guy doesn't seem trustworthy at first. His concern is no less precarious: Tell's sister Sara – a confessed five-time murderer who took her own life before the trial was opened – is said to have been innocent, and Benner is now supposed to obtain an acquittal posthumously. In court, the evidence back then would not have been sufficient to convict Sara, but incomprehensibly she made a comprehensive confession and was even able to precisely name the hiding places of the weapons. Benner's curiosity is aroused and he accepts the mandate….
Conditions
The reduced price of 1.99 € is granted for the book presented here up to and including Sunday night. In our opinion, this is a nice deal, especially since this book was listed on the Spiegel bestseller list for a total of 55 weeks.
---
* The product links used here are affiliate links that enable us to receive a small commission per transaction if you shop via the marked links. As a result, there are no disadvantages for you as a reader or user of the offer, you no longer pay a cent. However, you are supporting the editorial work of WakeUp Media®. Many Thanks!