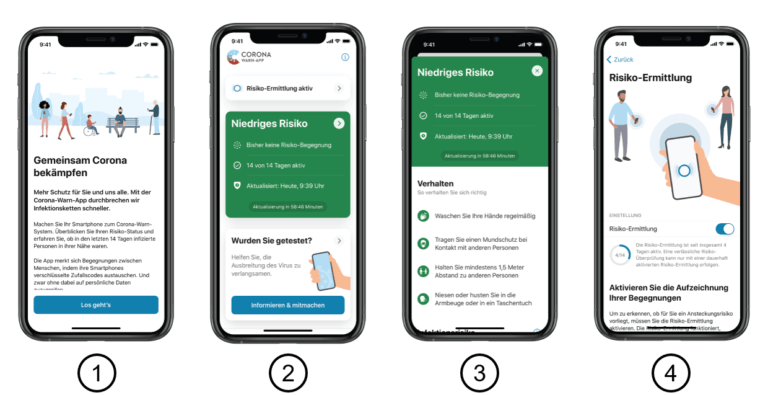 The Corona warning app has received its previously announced update. With this update, there is now support for iOS 12. Specifically, the old iPhone 5s and the iPhone 6 / iPhone 6 Plus, which had sold extremely well for years, benefit from this.
The RKI has published another update for the Corona warning app. Version 1.12.1 of the app is now available for iOS. With the update, which is already expected on February 10, the developers at SAP and Deutsche Telekom are adding support for older iPhones that they had previously announced, Apfelpage.de reported.
The Corona warning app now also runs on the iPhone 5s and iPhone 6
Apple users with older iPhones that can no longer use the current iOS versions can now also use the Corona warning app. Version 1.12.1 adds support for iOS 12.
The iPhone 5s from 2013 and the iPhone 6 and iPhone 6 Plus benefit from this. These models presented in 2014 became a big hit, no iPhone up to the iPhone 12 sold as well in the following years, it was accordingly important that these models still received support for the Corona warning app.
Furthermore, details were added to the contact diary.
The developers write about the update:
With this update we provide you with bug fixes and adjustments in the app texts. The following new functions are also available to you:
– The app now also supports smartphones with iOS version 12.5.
– After an update, the app shows you an overview of the newly added functions. This information can also be found under App information -> New functions.
– In the contact diary you will now receive information for the last 15 days as to whether your risk status was high or low on this day. The contact diary does not show any risk status for days without risk encounters.
– If you have an iOS version between 13.0 and 13.6 installed on your smartphone, when you start the app you will receive the information that you have to install the latest iOS version in order to use the app.
The Corona warning app (Affiliate Link) has now been installed by more than 27 million German citizens.
---
* The product links used here are affiliate links that enable us to receive a small commission per transaction if you shop via the marked links. As a result, there are no disadvantages for you as a reader or user of the offer, you no longer pay a cent. However, you are supporting the editorial work of WakeUp Media®. Many Thanks!