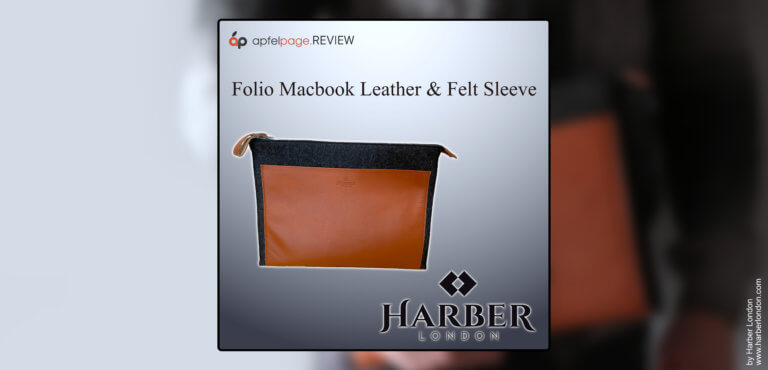 The Folio Sleeve from Harber London is a high-quality MacBook case made of felt and leather. In the test, the clean workmanship and the quality of the selected materials are particularly noticeable. In some places there is room for improvement, especially when it comes to the organization in the side pockets. The price of around 150 euros can be rated as fair in view of the high quality handicraft.
Offer for apple page readers
Until February 13, 2021 you can save 20 percent on the entire range in the Harber London online shop.
Use the code for this FRIEND-VT9LQ6W in the checkout process.
Who is Harber London?
Perhaps you already heard of in a previous article Harber London read. If not, I'll pick you up again.
It all started in 2012 in the English capital. One day two Londoners noticed how difficult it was to find high-quality laptop bags – especially for MacBooks.
The idea of ​​developing your own well-made leather sleeves was born. The problem was, both of them had no idea how best to approach this endeavor. Years and days passed before you had the necessary know-how to run a company and to acquire and process leather.
The result was Harber London – a brand that has since become a leading shop for all kinds of Apple accessories. The different Leather sleeves for MacBooks form the absolute main product.
No plastic packaging
The entire presentation already reveals that it is not a run-of-the-mill product from the next best China shop. The sleeve is not in a transparent plastic bag, but comes in an elegant folding bag made of black cardboard with an imprinted logo.
If you open it by pulling a flap, you will find the MacBook case wrapped in thin parchment. There is also some information material. In addition to the qualitative and minimalist presentation, I am particularly pleased with the packaging material used: no plastic, just paper and cardboard – great!
Leather and felt – made in Spain
With the sleeve, too, they have limited themselves to the most important things: quality instead of frills. In addition, the products are "Handmade by expert craftsmen in Spain" – which of course makes an impression.
The main part of the bag is made of thick and well-made felt. Since this textile consists of individual fibers, the value should not be underestimated. Cheap fabric will fluff if you just run your finger over it. The individual fibers can then be found on displays, in keyboards and fan housings. However, during my trial period I did not have any issues in this regard. What the long-term effects are remains to be seen.
The leather of the side pockets also makes a good and stable impression, which suggests a high-quality tanning. It is attached to the felt with fine seams, no problems here either. However, it bothers me that the inside of the bags consist of the unprocessed leather underside. This can – but does not have to – lead to greater wear and tear on the material and abrasion to accessories or lint.
Finally a few words about the zips used. These are not made of cheap plastic, but made of metal. The longevity of such closures is usually better, but the individual links can quickly get caught. That happens here too – with a very little grease it slips like … well 'lubricated'. From a purely visual point of view, everyone has to know for themselves whether the shiny silver zipper matches the rest of the design.
MacBook sleeve with features
Granted, to speak of actual 'functions' seems to be an exaggeration. Nevertheless, the Harber London Folio Sleeve offers a few nice little things that make the chaotic everyday technical life easier.
So you can also place an iPad in the main compartment next to your MacBook – the space is definitely sufficient. And if you have an iPad, you probably also have an Apple Pencil: This (or a normal kulli) fits into a small leather eyelet below the zipper – a cool idea.
Speaking of zippers: The manufacturer has attached a small felt fold on both sides so that it doesn't scratch the housing of your devices. It covers all areas that could affect the sensitive aluminum of the MacBook or iPad.
On one side there is a leather pocket to close, on the opposite side the compartment is open at the top. Both offer plenty of space for accessories, documents – even small folders – or a small iPad. However, if you don't place your stuff sensibly, everything flies around during transport. For better organization, I would have liked to have small compartments or subdivisions. This is what other sleeve models from Harber London offer.
If you are often on the go and have the MacBook on your lap, the Folio Sleeve can serve as a clever support. The notebook's plastic feet adhere quite well to the leather surface.
Quality costs money
That costs in the manufacturer's web shop Folio sleeve in all sizes just under 150 euros (As of January 2021).
Even if that is already a lot of money, you can still get away much cheaper than with the Apple counterpart. The Cupertino leather cover (Affiliate link) is between 200-215 euros, depending on the size. However, it is only available for a few current devices and is not nearly as elaborately manufactured as the London MacBook sleeve. In addition, you don't get a zipper or useful side pockets.
Harber London, on the other hand, offers the sleeve for almost all common MacBooks:
MacBook 12 "
MacBook Air 2010-2020
MacBook Pro 13 "2012-2020
MacBook Pro 15 "2012-2019
MacBook Pro 16 "
Nevertheless, there are very good notebook bags for a lot less money. These can also be recommended with a clear conscience – especially if you don't want to spend that much. Of course, these cases are not made of such high quality materials and are most likely machine-made. So if you want to support a product made in Europe, you can't go wrong with the Folio Sleeve from Harber London.
Save 20% on the entire range
Applepage readers receive a discount of 20 percent in the Harber London online shop.
Use the code for this FRIEND-VT9LQ6W at checkout.
The offer is valid until February 13, 2021.
---
* The product links used here are affiliate links that enable us to receive a small commission per transaction if you shop via the marked links. As a result, there are no disadvantages for you as a reader or user of the offer, you no longer pay a cent. However, you are supporting the editorial work of WakeUp Media®. Many Thanks!