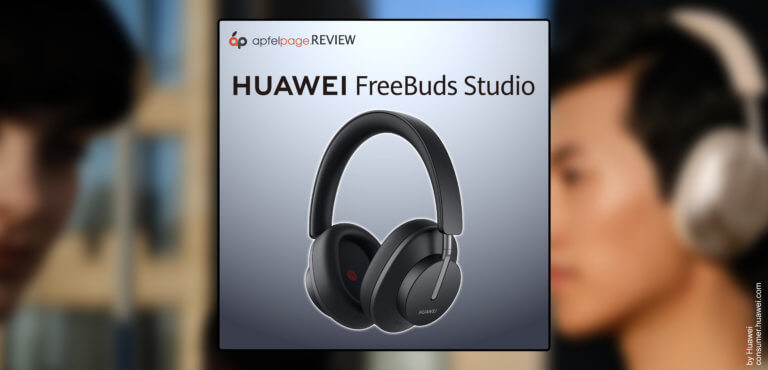 The Chinese electronics manufacturer was just a little bit ahead of Apple and with the Huawei FreeBuds Studio introduced its own over-ear headphones with ANC. In the test, they convince with a good sound and smart functions – in order to be able to fully exploit both, however, you have to rely on the latest Huawei smartphones. The active noise cancellation is above expectations, but does not reach any top values. The RRP of just under 300 euros seems a little too high in view of the performance, but the street prices are already considerably lower.
Comfort & handling
When it comes to headphone headphones with ANC, the over-ear design has more or less prevailed. Very few devices including the Beats Solo Pro (to the test), use an on-ear concept. Accordingly, the Huawei FreeBuds Studio completely surrounds the ears and does not just lie on top. For me, the ear pads should have a little more space. The material on the ear pieces and the temple is in black leather look and also pleasantly soft, but still offers a firm fit. After several weeks of continuous use, I could not see any signs of wear.
The two ear pads can be turned inwards, but not folded in. The size adjustment hinges are two rather thin aluminum tubes. They made a stable impression in the test. What the long-term effects will be remains to be seen. The size can be adjusted continuously, but sometimes it slips a little too easily.
The outside of the right handset functions as a touch user interface. By tapping and swiping several times, you can fully control music, phone calls and voice control. I am very satisfied with the sensitivity, the Sony XM3 have bigger problems. Also on the right is a hardware button for on / off and Bluetooth pairing as well as the USB-C charging port. On the left is just a physical switch that can be used to switch between ANC, normal and transparency mode.
Smaller gimmicks in the setup, e.g. B. the voice mode can only be done in the Huawei AI Life app. However, this is only available for Android. Other functions, for example fast coupling or gaming mode, are only available for Huawei smartphones from EMUI 10.1.
The FreeBuds Studio connect via Bluetooth 5.2. They allow the connection to two audio sources as well as seamless switching back and forth. This worked extremely well in my tests and, together with the carrying detection (only within three minutes of taking it off), was a cool thing, especially in everyday home office life.
A few words about call quality: The microphones impress with their clear and detailed voice recording during conference calls. In a louder environment, a fairly good noise suppression system filters out disturbing background noise: the person you are talking to only perceives passing cars very quietly. However, this technology sometimes fails; then the caller hears every step I take. I'm sure a software update could fix this. But you would definitely need the Huawei app for that.
Sound
First you should take a look at the codecs of the FreeBuds Studio. Huawei advertises primarily with its own L2HC codec, which is supposed to bring true hi-fi sound to the ears and transmit up to 960 kbps. For comparison: CD quality is around 1,411 kbps, the iOS standard AAC is only 256 kbps. What sounds great in theory is put into perspective quite quickly: This codec is only available for Huawei smartphones with EMUI 11 or higher. And this version has only been gradually rolled out since December 2020. In addition, Sony proves with its LDAC stream that not everything that glitters is gold. Otherwise, the license-free SBC codec and AAC are used with the FreeBuds, which is particularly relevant for iPhone users. PC and Android users would appreciate aptX, but this is not included. I speculate that the trade strike plays a role here: Huawei, as a Chinese company, does not want (or is not allowed to) use the low-loss compressor from the US company Qualcomm.
Enough about the technology, down to actual skills. For my test I used a Huawei P40 (but without EMUI 11) and my iPhone 12 Pro.
In both configurations, I noticed the very concise and powerful mids, often a weak point in other headphones. Singing is pleasantly dominant in the foreground. Even at a higher volume, the conciseness is neither lost nor do the highs begin to scratch. Nevertheless, I would like a little more details in the high frequencies.
The bass of the Huawei FreeBuds Studio has a nice depth, but is quite powerful. This really brings a lot of joy to pop and hip-hip, but it spoils the day for jazz and classical music fans. The more unbalanced sound profile gives the already low-detail highs the rest at higher volume – good to hear with rock tracks.
Exciting: In some songs I notice a small difference between iPhone and Huawei, especially when it comes to the attention to detail and distortion. But I don't know why, because I didn't use the L2HC codec. The vocals on the Huawei mobile phone were also clearer, albeit slightly breathy.
Overall, the FreeBuds Studio creates an acceptable volume of sound, but it is pretty close to the ear. So the stage should be full or wider – especially considering the price. The headphones cannot be used in the same way, so there is no jack plug included. What shouldn't be a problem in 2020: The activated noise-canceling changes the sound and makes it slightly dull.
Some reference potions for this test:
Speed ​​of Drivers: Money for Nothing – Dire Straits
Singing: Loyal Brave True – Christina Aguilera; Granted – Josh Groban
Bass: WAP – Cardi B
Frequency Depth: Limit to Your Love – James Blake
Classical: Symphony No. 40 G minor – WA Mozart
Hard Rock: Silently (Christ 0) – Vanden Plas
Noise canceling
The FreeBuds Studio ear cups already offer quite good insulation. With the ANC activated, you can enjoy more of the music, especially in noisy environments. Huawei relies on dynamic ANC adaptation that can adapt to the environmental conditions. However, you have to rely on the Huawei app for ANC settings (e.g. language mode). Overall, the headphones have good noise canceling, but they do not reach the top class of a Sony WH-1000XM3 or XM4.
If you walk past a busy road, the noise canceling absorbs a lot. It robs the cars of the gruff, deep noises and transforms the agitated city noise into a pleasant background accompaniment. With a fully automatic coffee machine during the grinding process, the Huawei do a good job, but one notices the first weaknesses in the high frequencies. The headphones have their problems with wind: If there is a little breeze, you can hear a lot of wind noise with activated noise suppression – so switch off ANC here at best.
Let's get to my personal problem child: the awareness mode. As a counterpart to active noise suppression, external noises reach your ears more intensely. Personally, I use this feature very often with the AirPods Pro, especially when I go shopping or talk to someone. However, the FreeBuds Studio are nowhere near the level of the Apple In-Ears or the Bose 700. It all sounds very artificial, tinny and echoing. In addition, every sound, no matter how minimal, is reproduced with enormous amplification.
Nevertheless, I have to put the awareness mode into perspective: Firstly, I don't know of any over-ears with a sensible transparency mode in this price segment. And secondly, I like to take off headphone headphones during conversations; this is firstly more pleasant and secondly more polite to the person you are talking to.
battery pack
In my runtime tests, I try to get as close as possible to average everyday usage. So I listen to music in different modes, occasionally make phone calls and pause use by manually turning it off.
Combined, I have a battery life of around 21 hours. This roughly corresponds to the manufacturer's information: 24 hours without and 20 hours with ANC. These are not bad values, but compared to other headphones, Huawei has to place itself behind Sony, Jabra and beyerdynamic.
What stands out positively, however, is the charging time. The battery is full again after just under an hour. 15-minute charging is enough for almost 9 hours of my runtime test.
price
The EIA of the Huawei FreeBuds Studio is just under 300 euros. At the moment (as of December 2020) they are already available at street prices of 215 euros. So they're in the same league as them Sony WH-1000XM3 or the Bose 700 – both current top models.
In a pure performance comparison, the Chinese have a lot to offer, but ultimately they can hardly keep up with the competition – at least when used without a Huawei cell phone. You already have many advantages with an Android phone and the Huawei app. But only with a device with EMUI 10.1 or 11 can you benefit from the entire range of features. This includes not only small software refinements, but also the lower-loss L2HC codec.
---
* The product links used here are affiliate links that enable us to receive a small commission per transaction if you shop via the marked links. This means that you as a reader and user of the offer do not suffer any disadvantages, you no longer pay a cent. However, you are supporting the editorial work of WakeUp Media®. Many Thanks!