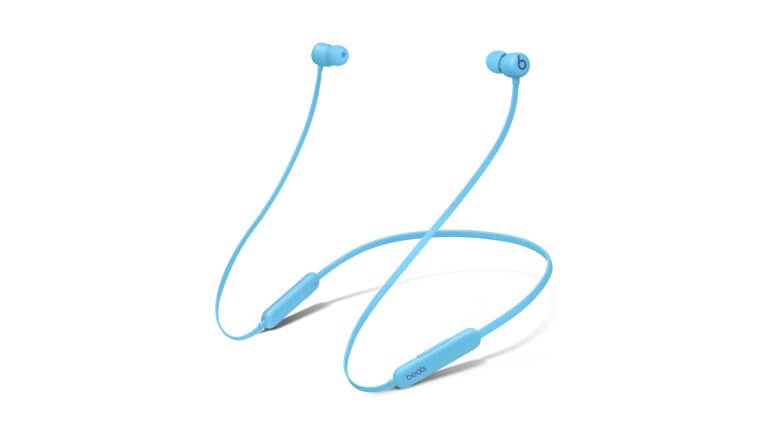 The cheapest Beats headphones are now available in two additional colors. These had already been announced at the start of the new headphones, but the market launch was only now.
Apple has launched its cheapest version of the Beats headphones in two additional colors.
The Beats Flex are now also available in both colors Flame blue (Affiliate link) and Smoky gray (Affiliate link) available. These two variants had already been announced by Apple at the start of Beats Flex, but the market launch took place as planned with some delay in the USA, Germany and many other markets.
The Beats Flex come with the W1 chip from Apple, which was already in the original AirPods and earlier Beats products. It allows quick pairing with all Apple devices.
Apple also promises a greater Bluetooth range and clearer voice transmission during phone calls.
Beats Flex is now available in four colors for 50 euros
With the two variants available from today, buyers can now choose from four colors: Initially, the Beats Flex were already available in the two variants black and yellow.
The Beats Flex are the affordable entry into the wireless lineup of headphones from Apple and Beats: For 49.95 euros, the customer receives headphones that, according to Apple, allow playback for up to 12 hours. When the batteries are empty, a charging time of ten minutes should allow a playing time of 1.5 hours.
Apple advertises the Beats Flex with precise stereo playback, rich bass and a crisp sound, but it is clear that the Beats Flex cannot and should not compare with the AirPods or even the AirPods Pro.
---
* The product links used here are affiliate links that enable us to receive a small commission per transaction if you shop via the marked links. As a result, you as a reader and user of the offer do not suffer any disadvantages, you no longer pay a cent. However, you are supporting the editorial work of WakeUp Media®.
Many Thanks!