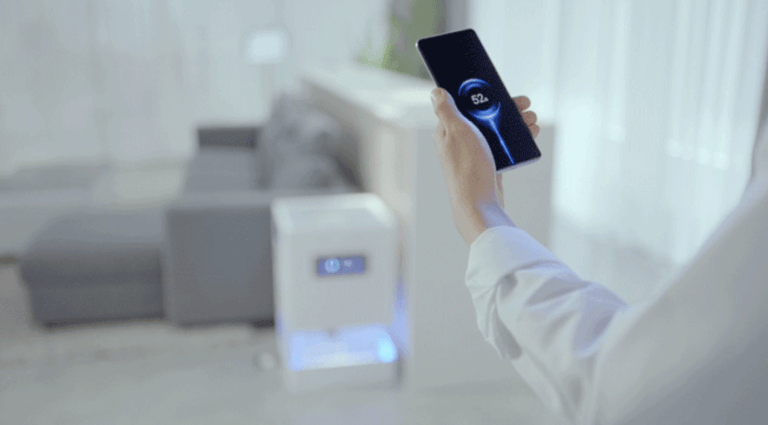 The smartphone manufacturer Xiaomi has startled the tech world today with a tweet in which they announced their new "Air Charge Technology". The tweet and press release suggest that the market launch is imminent. It is not so. But the concept is brilliant. Apple page summarizes!
144 antennas of a small charging station should be able to charge other devices with 5 watts and through the air. Sound like the future? It is.
What's behind it?
The Chinese manufacturer gives in a Press release today, its new Air Charge Technology would work over several meters and could charge several devices in one room at the same time. The technology is compatible with smartphones, fitness bands and smartwatches. In the future, speakers, lamps and household appliances can also be charged "remotely".
So real wireless charging.
We're excited to bring you the remote charging technology – Mi Air Charge Technology! Charge multiple devices simultaneously while you're gaming, walking around or even when something's in the way, no strings attached. Another giant leap forward in wireless charging technology! pic.twitter.com/wEoB10wOQ2

– Xiaomi (@Xiaomi) January 29, 2021
New? Not really.
The dream of wireless charging has already been shown several times by manufacturers at trade fairs such as IFA or CES. We from Apfelpage were there. So the idea is not new. It basically works too, we've known that for a long time. The market launch, certification and the price are on a different sheet of paper.
And when will the air charger come?
Good question. Once again, Xiaomi has its mouth full with future technology, but not with prices or launch dates. Opposite The Verge, Xiaomi has deniedthat one would like to deliver products with this technology to the end customer this year.
A time horizon was not given either.
The pioneers
Xiaomi was one of the first manufacturers to bring ultra-fast chargers, zoom cameras, fingerprint sensors in the display and borderless displays onto the market. They set the tone when it comes to smartphone innovation, but less so when it comes to quality. Solutions from Apple and Samsung became more and more sophisticated afterwards. This could be similar with "True Wireless Charging".
Xiaomi has probably made good progress on the project internally, so that it has now gone public. It cannot be ruled out that we will see such products on the market in just a few years. And that makes us prick up our ears!
We are already in contact with the Xiaomi PR agency and will inform you if we receive a statement worth mentioning.