[ad_1]

This article has been commissioned by NETGEAR – the manufacturer has not been given the opportunity to influence either the test procedure or the text.
---
We take a closer look at the Netgear GS305EPP – a compact, powerful PoE + switch.
One area that has increased sharply in recent years is power over ethernet or PoE, where connected devices receive both power supply and network connection via the same connection. Primarily, this was a solution for slightly larger companies, but as more and more products in more and more areas have been lasered, the concept is just as useful for both smaller companies, home offices and more technology-oriented homes.
As the latter group of users usually do not have the same needs as larger companies, in terms of the number of connected PoE devices, Netgear has developed a wide range of four- to eight-port minimal switches which, despite their compact format, are available with PoE + certification to be able to operate even more demanding equipment. These can be, for example, motorized security cameras, simpler computers and perhaps above all the latest generation access points. Here we have focused on reviewing the GS305EPP, which is the top model in the four-port input series.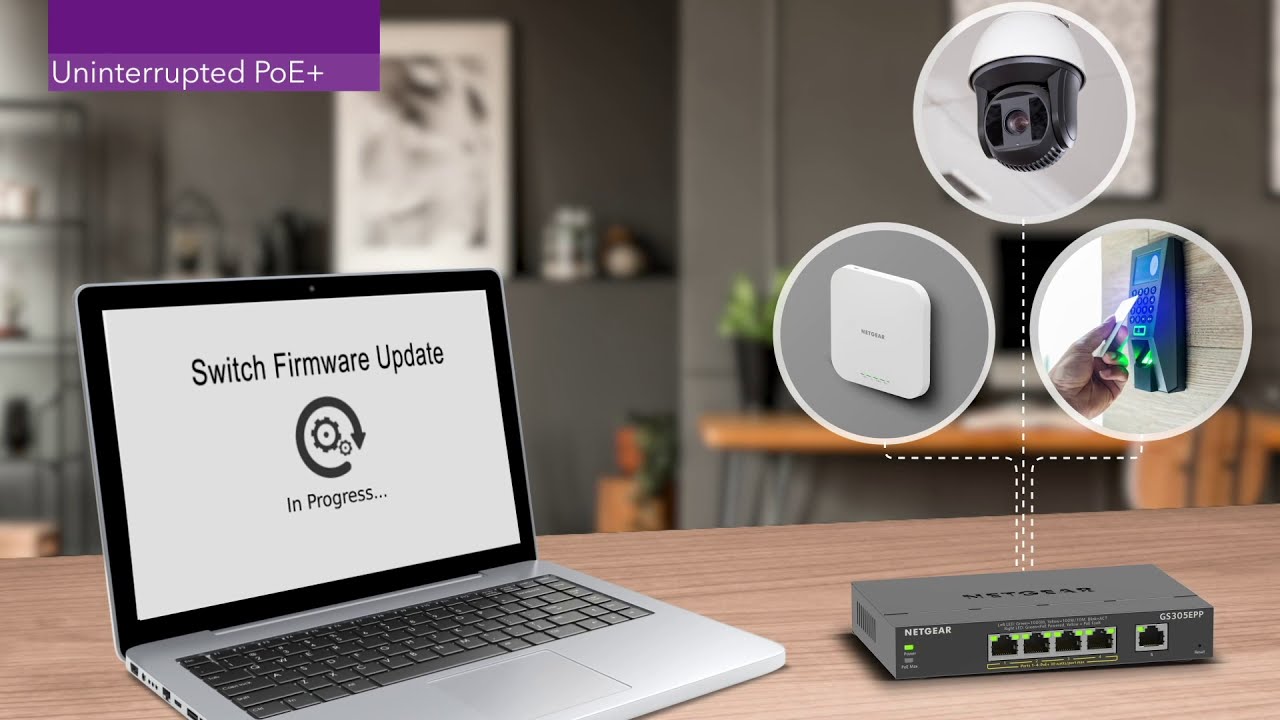 Classic Netgear look
We start by looking at the exterior where we meet a classic Netgear Pro / corporate switch with more or less the same look as the manufacturer's models in the same series had for many. In other words, the recognition factor is high.
The switch measures 158 x x101 x 27 millimeters and weighs a low 400 grams. The unit's chassis is made of a durable black metal construction with a white Netgear logo on the top and ventilation holes on both short sides. The latter helps to keep the model cool as it only relies on passive cooling and thus is also completely silent.
On the back of the unit we find a Kensington lock and connection for the external power supply. GS305EPP can either be placed directly on a table with the rubber feet or wall mounted using two attachment points on the underside.
Clear LEDs
On the front we find four PoE + 802.3at-based gigabit LAN ports which are equipped with two LEDs per port. These light up, or flash with different colors to indicate current load and connected speed. The left one shows the connected link speed where yellow indicates a 10- or 100 megabit connection and green indicates a 1,000 megabit connection. When flashing, this indicates activity across the gate. The right LED shows the current PoE status. If this is off, the port does not provide PoE power, if it is green, power is supplied to the connected PoE unit and if it is yellow / orange, a PoE error occurs. In total, the switch can handle 120 watts of power supply with a maximum load of 30 watts per port.

There are also two more LEDs at the front left. The top of these is a power LED that shows if the device is on or off. The lower one is interesting from a troubleshooting perspective and off by default. The LED only lights up if a PoE problem occurs. Should it flash yellow, it shows that on at least one occasion during the last two minutes less than seven watts have been available and at a solid yellow light, the unit has less than seven watts available.
At the far right of the switch there is also a WAN port that we connect to either a router or to some type of backbone switch.
Note that the LAN ports have an internal priority order where port one has the highest priority and port four has the lowest. Then why is this important? Well, because there are PoE units or so-called PDs (powered devices) which during normal operation do not take more than 30 watts, but which under certain conditions for a short time increase in requirements. Since the GS305EPP is also designed to handle these peaks, the total power supply can exceed 120 watts, and to prevent overheating or other damage to the unit, the port with the highest number will be temporarily disabled to ensure that higher priority units always work.
Easy handling
We go over to the inside and take a look at the model's specifications. Here we get a full duplex with a maximum of ten gigabits per second with priority-based queues based on WRR. The device can handle up to 4K Mac addresses and has a buffer size of 192 kilobytes. On the L2 side, we find support for up to 64 VLANs with IEEE 802.1Q VLAN tagging, IGMP Snooping up to version three and linked ports for easy network segmentation or the ability to create redundant connections. Of course, we also get support for DHCP for this.
Netgear GS305EPP also has protection such as loop detection and broadcast storm control as well as the ability to control and monitor the bandwidth used per port. The ability to manage the device per port means that we can also activate and deactivate ports remotely based on our needs. This is done with advantage after we during the initial installation added the switch to our Insight account.
We do this most easily by first downloading Insight to our smart phone or tablet. Log in, or create a new account, then click on the menu button located at the top left of the app window. From the drop-down menu, we click on "Register any netgear device". Then we can choose to manually enter the device's serial number or to scan the device's barcode with the mobile phone.
Re-prioritize at a distance
From the same interface, we can also control functions such as QoS where we can set up rules to prioritize, for example, video and voice traffic for our ever-increasing video meetings. In addition, we can set PoE restrictions per port and more. The latter can be a smart solution to partially circumvent the built-in port prioritization. Especially as we can handle and re-prioritize this remotely without having to reconnect the RJ45 connectors in the switch.
Another advantage of the GS305EPP is that the device has what is called uninterrupted PoE, which means that connected PDs continue to get their power supply even if we need to upgrade the switch's firmware or for some other reason want to do a program-based reboot.
Areas of use
How do we use GS305EPP in the best way? Thanks to a high capacity per port in relation to the format where we can handle up to four Class 4-based PoE units and an excellent cloud-based management via Insight, the areas of use are very varied. A couple of solutions we see as perfect frames are the following:
As a simpler PoE framework in small businesses, home offices or homes. In this mode, we use the device's Wan port to connect directly to a router or alternative internet connection. We then use the four Lan ports to connect one or a couple of wireless access points. If we use the latter configuration, we can create a redundant solution where we, if a port or access point goes down, can directly activate the alternative access point which then acts as a "fallback". We can use the remaining ports for a security camera, a PoE-based VoIP phone or some type of digital information board. Or why not connect a NAS for local storage of video data from the security camera?
As part of a larger backbone with different sections or for efficient handling over several floors. In some situations, we have a more widespread area to which we want to connect PoE devices. It can be a solution where we want units spread over several floors or over a larger area. But it can also be the case that we have one and the same area, but that we want a better segmentation between, for example, employees and guests or between different internal office groups. Or why not a division between home and home office? In this case, we connect the Wan port to a backbone switch where we can in this way pull longer cables to the respective GS305EPP. We can then connect the devices that each area requires with approximately the same base as the solution above.
Segmented PoE solution. The last solution we see a clear benefit of is a type of segmentation of different PoE units. We use several GS305EPP switches here, where we dedicate one to connect our access points, one to control smart devices, one for security cameras, one for information panels and so on. In this way, we can easily allocate administrative rights to a type of area, we can also easily shut down a complete PoE service by stopping one of the GS305EPP switches without affecting other parts.
PoE based unit classes – Fact box
| | | | | |
| --- | --- | --- | --- | --- |
| Unit class | Standard | Class description | Minimum PoE level | PoE range |
| 0 | PoE and PoE + | Full 802.3af – Standard | 0.44 watts | 0.44–12.95 watts |
| 1 | PoE and PoE + | Very low current | 4.0 watts | 0.44–3.84 watts |
| 2 | PoE and PoE + | Low power | 7.0 watts | 3.84–6.49 watts |
| 3 | PoE and PoE + | Intermediate level | 15.4 watts | 6.49–12.95 watts |
| 4 | PoE + only | High current – 802.3at | 30.0 watts | 12.95–25.5 watts |
SPECIFICATIONS Netgear GS305EPP
Manufacturer: Netgear, www.netgear.see
Approximate price: 1 293 incl. VAT, 1,034 excl. VAT
Number of ports: 4 st PoE + gigabit + 1 st gigabit Wan
Measure: 158 x 101x 27 mm
Weight: 400 grams
Maximum PoE budget: 120 watts or 30 watts per port
Interrupted PoE: Yes
Internal bandwidth: 10 Gbps
Maximum number of Mac addresses: 4K
Priority queues: WRR
Mangering: Netgear Insight
For complete specification visit: https://www.netgear.com/business/wired/switches/plus/gs305epp/
[ad_2]

Source link