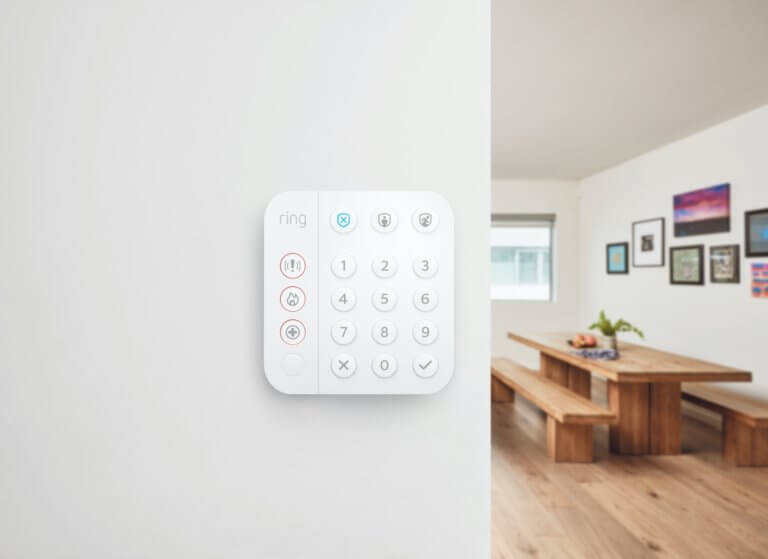 Ring is the well-known manufacturer of smart home products that are designed to make your own home safer. In addition to the well-known Ring Doorbell, the Ring Alarm outdoor siren and a new generation of the Ring Alarm have now been unveiled.
The revised version of the Ring Alarm, a smart alarm system, and the supplied contacts for doors and windows come with a new design.
The latter are now a little narrower, which means that it should be easier to attach them in gaps from now on. A few more buttons have been installed on the main module itself, which are used to switch between home and absence modes and to deactivate the alarm.
The alarm itself can now be triggered manually faster with the new model, which means that set contacts can be contacted more quickly in the event of an emergency, for example. Switching on the already known "supported monitoring", in which the set contacts are also informed in the event of an alarm, now also works by pressing a button. Of course, the device is also compatible with Amazon Alexa again.
New product: The Ring Alarm outdoor siren
An extension for the Ring Alarm is the completely new Ring Alarm outdoor siren. You can already imagine what it does. If the alarm is activated, a siren sounds and a red flashing LED is activated. The outdoor siren can optionally be used as lighting at night. It can be configured so that a white light appears between sunset and sunrise.
Ring alarm outdoor siren and ring alarm (2nd gen): prices and availability
The pre-orders for the new ring alarm start today. The product will be available from April 28th at a price of 249 euros (RRP). The Ring Alarm outdoor siren will be available from March 31 for 79 euros (RRP). Pre-orders for this model also start today.
Interested parties can get their contact details on the Ring homepage to be informed as soon as the new devices are available for purchase.