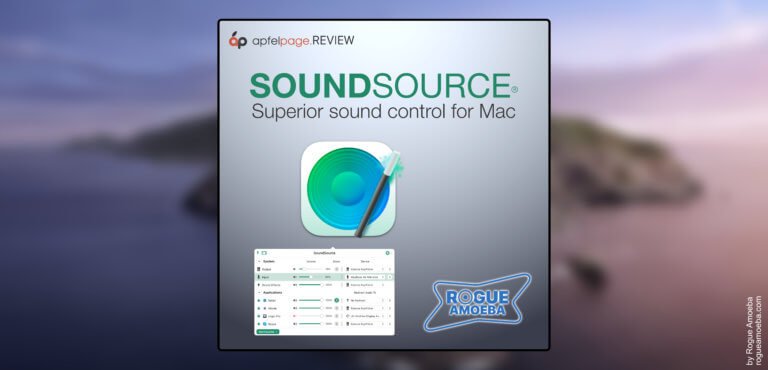 There's really little that I've really missed since moving to Mac. A sound manager is definitely one of them – Apple has not brought something like that up to now. The program SoundSource of Rogue Amoeba proved in the test as a resourceful way to regulate your individual sound sources on the Mac in detail. The price is a one-time $ 46, which is absolutely fine for the features it offers.
What a sound manager for?
In the home office, in particular, you often have several programs running at the same time that play audio. For example, you can follow the big town hall meeting on bigmarker.com and chat with colleagues in Microsoft Teams. Often, however, the volume controls of the respective app interface are not sufficient – as a result, a program is either much too loud or much too quiet.
This is where an app like SoundSource comes in. You can individually control, mute or even change the sound of the open programs using your own virtual mixer.
Comprehensive control options
The sound manager known from Windows 7 is by default located in the control menu on the lower right side. As a Mac program, SoundSource mixes with the other icons in the control center at the top right – at least as long as you don't change that.
With a simple mouse click or a shortcut you open the program and find a mixer-like structure. This is almost self-explanatory and has a very chic look.
You can control and adjust the sound output and input using sliders, setting menus and sound effects. You are even equipped for more complicated applications: For example, you could assign each audio source to its own output, e.g. B. if you have connected a receiver with several line-outs. With a "Boost" button you can push the sound of an app a little more. As a result, SoundSource gets even more out of your speakers and improves the sound in some cases considerably.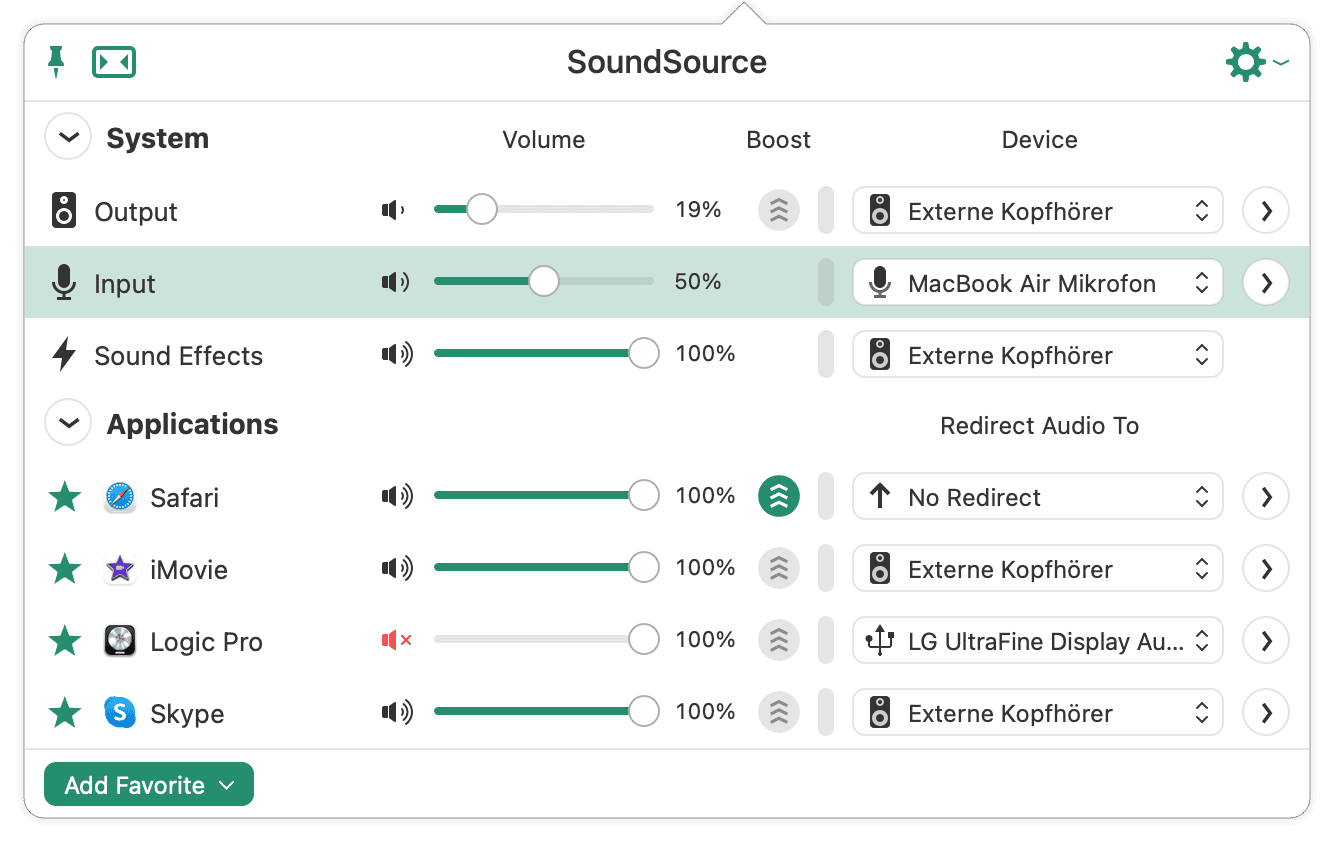 The audio output is much fuller and louder thanks to "Magic Boot". (Photo: Valentin Heisler) In addition to these standard functions, the smart application displays almost all options of the macOS sound settings. So you don't have to go to the system settings anymore. SoundSource centralizes everything through direct access.
What happens to the sound?
The above-mentioned adjustments via the slider mainly affect the pure volume of the audio source. In addition, you get an extensive selection for sound adjustment.
Each output has a 10-band equalizer and the option of using audio unit effects (AU v3 is supported). This will especially please those who already use Audio Unit plugins on their Mac. There is also a separate equalizer for headphones.
Native to Apple Silicon
The developer always keeps the application up-to-date and adds new functions to major major updates. In version 5, the loudspeaker icon in the control center adapts dynamically to the volume of your system – just like the normal macOS icon does. In addition, the entire design is now a bit more minimalistic and tidy. The new automatic mode moves apps that output audio directly to the "Applications" area. If you stop the sound output, SoundSource removes it again – unless you favor the respective application with the asterisk.
The early adopters of Apple Silicon Macs have also been considered: SoundSource and all other rogue Amoeba apps already run natively on systems with Apple's own CPU (to the weblog article). As a result, the programs benefit not least from the maximum performance of the new M1 processors.
Fair pricing structure
At this point in time, SoundSource is available for one-time fee of 46 US dollars (approx. 38 euros) on the manufacturer's website.
That may sound like a lot at first glance. Alternatives that already cover some functions are available for less money.
Here would be about Sound Control from Static Z Software to call. This program is just under $ 20.
However, if you want the egg-laying woolly milk pig, you come Rogue Amoeba almost not over. SoundSource covers almost all requirements for such an application and offers a number of functions and interfaces.
Last but not least, there are from the same manufacturer other useful audio toolswhich, when combined, create a lot of synergies.