Pure Humidify + Cool from Dyson offers a smart 3-in-1 solution with clean, cooling and moisturizing air.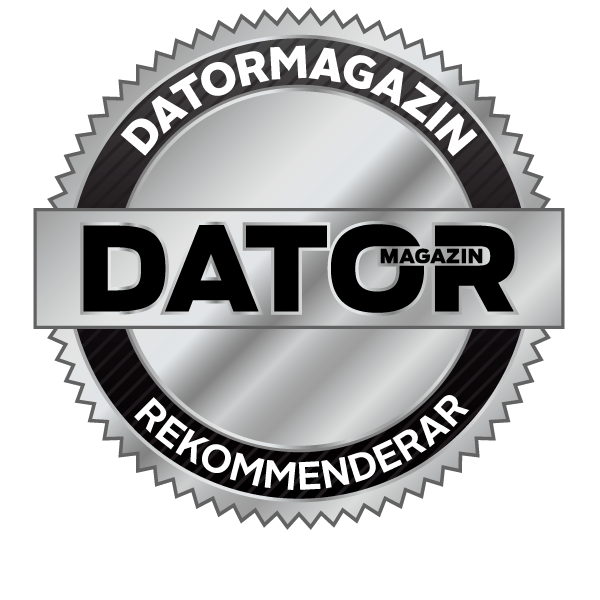 For several years, Dyson has developed various units with a common focus on improving the air in the indoor environment we are in. One of the latest additions is Pure Humidify + Cool, which is a combined air purifier, humidifier and fan. It is a relatively large piece that measures 923 × 312 × 312 millimeters and weighs about 8.3 kilos. Dyson themselves say that this is a "three in one solution", but we would actually like to go so far as to say that it is a four in one unit as in addition to the mentioned functions we also receive a real-time air quality report directly from the machine.
Active air purification
We begin the review with what is something of the heart in Dyson's units, regardless of whether we talked about air purifiers or vacuum cleaners, namely the filtration function. In the middle of Pure Humidify + Cool there are two semi-cylindrical cover caps which we can easily remove via quick fasteners on the side.
Inside these is the unit's 360 degree filtration system which combines an activated carbon filter with a sealed Hepa filter which means that the air that comes out has filtered out 99.95 percent of all microscopic particles such as allergens and various pollutants, as well as gases and bad smells neutralized.
We noticed that the unit has a high efficiency when the undersigned has a dog and we have neighbors who are allergic, but who despite this can stay in the same room without getting any discomfort. In the same way, a marked difference is also noticeable when the temperature changes to slightly warmer days and pollen begins to arrive. With Dyson Pure Humidify + Cool, we get in all situations what feels like an almost completely pollen-free air indoors. It helps during the day but especially during the nights when the nose can otherwise become completely blocked.
Built-in humidifier
As mentioned above, this model also offers a moisture supply of the air that comes out. This is done via a specially manufactured water tank that is rolled, or pushed, into place in the lower part of the unit. The container holds five liters of water, which we initially thought would be a "huge amount" considering how much water this would be if we poured it on the floor (terrible thought). But with a humidity of 30 percent, this tank lasts just over two days in our office of just over 45 square meters. For some reason, the unit is limited to a minimum humidity level of just 30 percent and if we had the wish, it would have been great to be able to set it down to maybe ten percent.
When the water level is exhausted, the function is switched off, so there is never any risk that we burn the evaporator part itself in the unit. As we all know, the quality of our water can also vary and to ensure that the moisture that is transported out together with the purified air is also completely clean, every drop that is to be evaporated is exposed to an ultraviolet light that is to kill 99.9 percent of all bacteria in the water.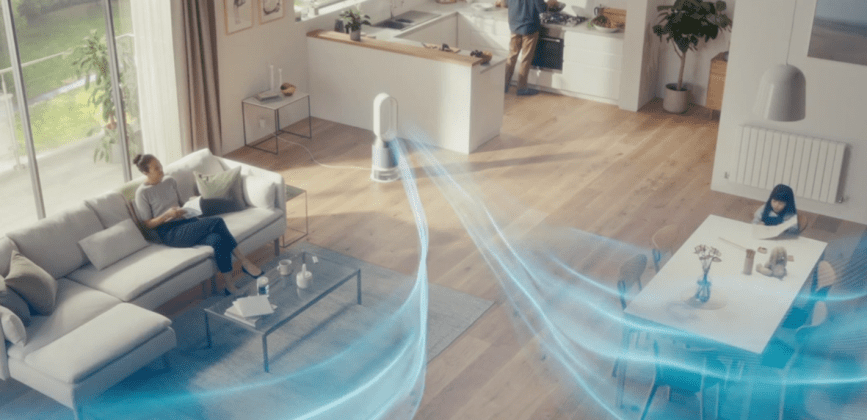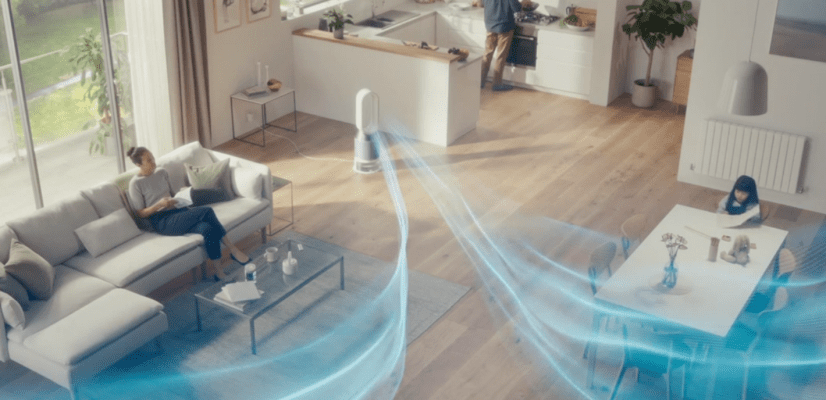 Since most of us do not have full control over what moisture level we need, we can let the device analyze our environment and then adapt the function to this data. In addition, the evaporator part absorbs ambient heat energy, which in turn leads to a cooling fan, which is thankful during warmer summer days.
Control Pure Humidify + Cool with Dyson smart application
The air and moisture from the Dyson Pure Humidify + Cool is then spread through the upper oval part of the device. This spreads 320 liters of air per second and thanks to smart angles, it is easily distributed throughout the room. We can also choose to activate an automatic rotation of the air flow, which in this way provides a faster spread.
READ ALSO
Test: Dyson Cyclone V10
We then come to one of the, for us a little more technically interested, best parts with this model – the Dyson Link app. Via this we get real-time information about the air quality, temperature, humidity and more for the place where the unit is located. This also includes estimated pollen levels and the amount of harmful particles. But the app also gives us full insight into parts such as when filters need to be replaced or when the steam function needs to be cleaned, which we easily do ourselves via a partially automated process.
Sensors keep track
All this is done with the help of a number of intelligent sensors that automatically detect airborne particles, gases, and humidity and more and then report this to us and our app in real time. You can also find the information in the small LCD on the front of the device.
We can also use the app to control the device in the same way we can do with the remote control that comes with it. The difference is that the former of course also works remotely, when we are not at home.
What does this mean then? Well, say we are not in the office, or our summer residence, every day. In these cases, we probably do not use the humidifier or maybe even the fan when we are not in place. But when we then go in and work or vacation, we can easily check the air even before we get there and activate the functions needed to get exactly the air level we need when we arrive.
Quite expensive but very good
So to summarize, this is a unique device that really changes and improves the air quality in our homes and offices and despite the fact that the cost is relatively high, we must say that it is a well worth the investment. And were it not for the fact that we need to fill the water tank so frequently, this would have been a hit.
Dyson Pure Humidify + Cool
For
Very easy to use, stylish design, cools, cleans and moisturizes the air, awesome smart app, good support.
Against
Limited capacity for the water tank, a bit expensive, we would have liked to have set the humidity completely free.
Recommended to
This is a solution that should be a natural part of our homes and offices as it creates a noticeably better air quality in the environment in which we spend the most time.
SPECIFICATIONS:
Manufacturer: Dyson, www.dyson.se
Approximate price: SEK 7,190 incl. VAT, SEK 5,752 excl. VAT
Weight: 8.29 Kg
Measure: 280 x 312 x 925 mm
Cable length: 1.83 meters
Oscillation angle: 90 degrees
Maximum air flow: 350 liters / second
Timer settings: 15 min – 9 hours
Filter: Hepa with 99.95% purification
Water purification: Ultraviolet light – 99.9% of all bacteria