Gigabyte Z590 Aorus Master is a stable, well-cooled motherboard with high overclocking potential.
Gigabyte's more game-oriented subsidiary brand Aorus has launched a large number of motherboards for the launch of Intel's latest Z590 chip. Aorus Master is a card from the higher performance crowd with plenty of features to take our gaming to new levels. But in connection with these choices, Aorus has also chosen not to include certain features such as Thunderbolt 4 ports. We think this should be standard in this price range. This is probably due to the fact that the interface may primarily be aimed at the more professional market, but it is still a bit of a shame as it can be a decisive factor for everyone who uses their system for both work and gaming.
Extreme stability
Aorus Master is an ATX-based motherboard with a stylish design that combines black, silver and Aorus red-orange-based color in a nice way. Around the processor socket, we find the card's 18 + 1 current phases, each of which can deliver up to 90 amps and which are controlled by a digital PWM controller for precise level management. To maximize the card's stability and precision in power supply, Aorus uses a new form of Tantalum-based polymer capacitors which, together with dual P8 connections, ensures that the power needed is provided even during powerful overclocking, while minimizing any current spikes.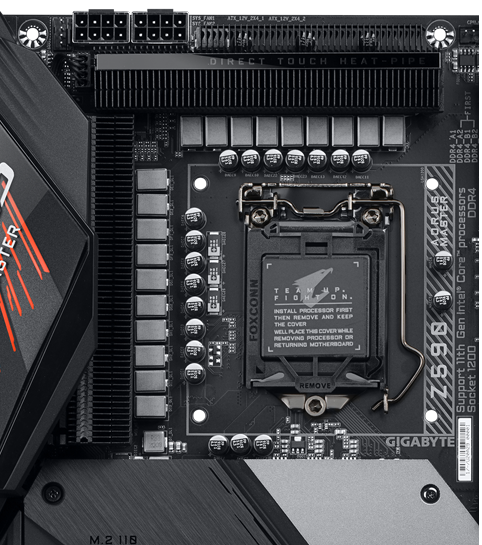 Gigabyte Z590 Aorus Master offers efficient cooling
To further optimize the card's possibilities for high overclocking and maximum stability, Aorus has invested in a very efficient passive cooling. This is based on a new form of heat dissipation pipe of eight millimeters, where the distance between the pipes and the flanges is minimized via the so-called Direct TouchII technology. This means that the heat is removed more quickly from the critical areas and distributed over the newly developed fin-based flange structure in the upper edge of the card. This is a solution that increases the effective heat dissipation area by up to 300 percent compared to traditional solutions.
ADVERTISEMENT: This is how much the Aorus Master card costs on Netonnet
For this, the card uses extra efficient plates with high thermal conductivity and a PCB with doubled amount of copper for the lowest impedance and most efficient heat dissipation. But the solution not only stops when handling power supply but also includes the fixed IO panel and the card's three M.2 slots which are equipped with a double-sided passive heat dissipation. This is made easier when we use high-performance M.2 devices with circuits on both sides of the card.
"All this is then handled by the easy-to-use Smart Fan6 program"
To complete the cooling, the Aorus Master comes with as many as ten PWM-based fan connections which are distributed on: a CPU fan, a water cooling connection, four combined fan and water pump connections and four pure fan connections. In addition, we also get eight integrated temperature sensors and dual external connections for self-placed sensors and a cable connection to measure the internal sound level from our fans. All this is then handled by the easy-to-use Smart Fan6 program where we can either manually control each connection or let the program itself automatically optimize cooling and sound level.
Fast storage
We move on to the card's expansion slots, which consist of three steel-reinforced PCIe x16 slots. These are divided into a top-ranked Gen 4 x16 slot, a mid-ranked Gen 4 x8 slot (which when used shares paths with the top one which gives an x8 + x8 configuration) and the bottom one which is a Gen 3 x4 slot. This means that we can use a two-way graphics card solution which, thanks to the location of the castles, allows cards that occupy three card slots. If we had wanted something a little extra, there would have been an extra bridge with additional Gen 4 tracks to be able to maximize the graphics to three cards. And we would have liked to have seen a separate P6 connection for the expansion slots to guarantee the best stability when the graphics are also to be overclocked.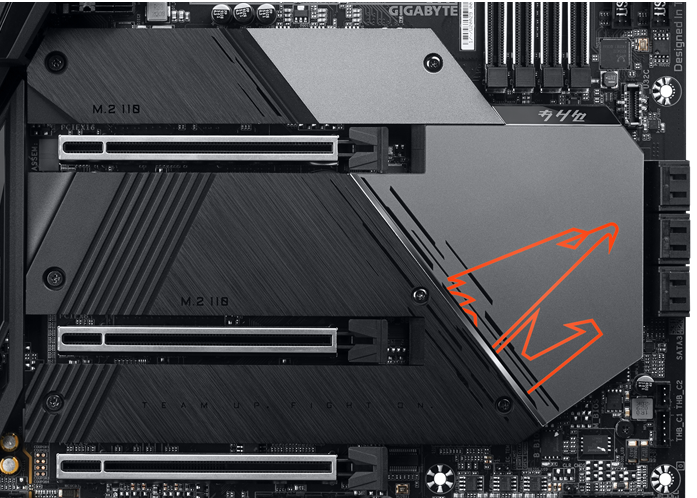 Along the right long side of the Gigabyte Z590 Aorus Master are six angled SATA 3 ports which can be configured for Raid 0,1,5 or 10, but above all they can be used in combination with an Intel Optane solution via the three M.2 slots . The 22110-based connectors are located between the PCIe slots where the top two are Gen 4 capable and the bottom two are Gen 3 based. With our eleventh generation Intel Core processor, we can achieve a transfer speed of up to 7,000 megabytes per second. Unfortunately, we have to state that Gigabyte still has not come up with a simpler solution to set up an M.2-based Raid, which several of the competitors offer.
READ ALSO
For this storage, the card also offers a number of internal USB connections. We get a front-connected Type-C port, dual USB 3.2 Gen 1 connections and dual USB 2 connections. If we had wanted something here too, it would have been an included converter that converts an internal USB 3.2 to dual internal USB 2 ports as there are, after all, quite a few chassis with four front-mounted USB 3 connections.
Approved IO panel
The card's IO panel is relatively full. From the left side there is a Clear Cmos button together with a Q-flash plus button. The latter allows us to update the card's Bios even when a CPU is not in use by first placing a new Bios file named GIGABYTE.bin into a USB memory. We start the process by connecting the USB memory and pressing the button, then just wait a few minutes. If the process is successful, the card will, after a successful restart, also upgrade the card's secondary Backupbios.
After these buttons we find dual antenna connections which are connected to Intel's Wi-Fi 6E AX210 and Bluetooth 5.2. The first gives us a stable wireless network connection with high performance and the latter allows us, among other things, to connect and stream music to two completely different Bluetooth sources simultaneously. In the next column we find four USB 3.2 Gen 1 ports which are followed by dual USB 3.2 Gen 2 and a DP 1.4 connection which can be used with the processor's possible iGPU solution.

In the next step, there is another USB3.2 Gen2 port in pairs with a Type-C connection. After this, we get the panel's last two USB3.2 Gen2 connections and an AQUANTIA AQC107 port which also has full support for 1, 2.5 and 5 gigabit communication. The panel ends with an optical and five gold-plated analog audio connections. These are powered by Realtek's ALC1220-VB codec in combination with the ESS SABER ES9118 DAC chip which delivers genuine HighRes audio with 32bit and 192 kilohertz PCM and which thanks to DTS: X Ultra provides really good surround sound for both music, movies and especially games.
Unfortunately, there are no Thunderbolt ports here, which clearly lowers the rating. We would also have liked to see another lan gate as the panel has plenty of space for this.
Smooth overclocking
As mentioned above, the Gigabyte Z590 Aorus Master is a card that is primarily optimized for overclocking both in terms of memory but above all regarding the processor. On the memory side, we get four memory banks with an extra shield all around. It should provide high stability and optimize the contact surface between the memory legs and the base itself. As usual with Aorus motherboards, this also comes with a competent software to automate overclocking. We always start by letting the card do the hard work and find a basic level that we can start from.
If we first look at memory management, we could either run dual memory banks in 4,000 megahertz at a Cas value of 16. Or we could run dual memories in 5,000 megahertz at CL18, the latter at 1.5 volts.
Gigabyte Z590 Aorus Master also has a very efficient XMP solution where all of our test memories are correctly identified right from the start, which also applies to memories that are not on the HCL list. As for the processor, a Core i9-11900K, we reached 5.4 gigahertz over all cores at 1.41 volts, which was slightly higher voltage than we hoped for. But considering the card's efficient and heat-dissipating VRM solution, it was not a problem.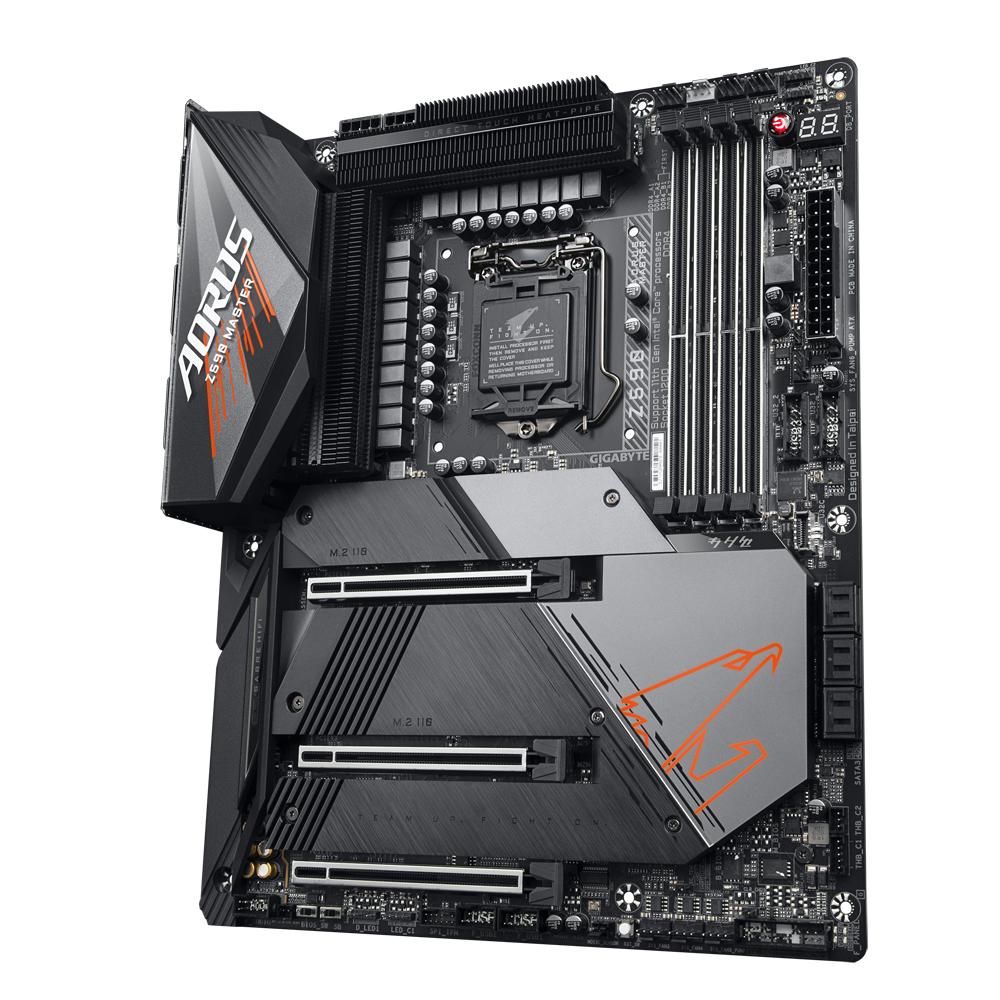 It also feels like the card has the potential to reach even higher and we are already planning tests based on our upcoming 480 millimeter radiator and will most likely have the opportunity to update these values ​​shortly.
Finally, we should mention that the Gigabyte Z590 Aorus Master comes with an easy-to-use software solution called the App Center, which brings together all of Aorus' programs and functions in one interface. This also includes an accompanying OEM license from Norton Internet Security.
Gigabyte Z590 Aorus Master
For
Stable motherboard with good overclocking potential, 10 GbE Lan, good Wi-Fi and very good sound, dual Bios, nice layout with efficient passive cooling.
Against
Only one Lan port, no PCIe x1 slots, no Thunderbolt 4 solution, cumbersome M.2-Raid, we would have liked to have seen a more efficient PCIe expansion option.
Recommended to
Gigabyte Z590 Aorus Master is a very good card for you who primarily use a graphics card and want to overclock CPU and memory.
SPECIFICATIONS Gigabyte Z590 Aorus Master