We test the Viper VP4100. A slim Gen 4 disk in the upper middle class that can be a good buy – but only if you find it at the right price.
Viper launched VP4100 already in 2019 and the disk was at that time one of the three fastest consumer disks in all categories. However, the price tag was a bit juicy for most of us, but in connection with the company launching the sequel, VP4300 in the second quarter of the year, the price of the original model began to fall and become more accessible. The only question is whether it has dropped enough and the performance is enough to be a serious alternative to newer top models.
Focused on performance
VP4100 is basically a standardized M.2 2280 model with circuits on both sides. On the lower side we find a sticker label with, among other things, model name. On the upper side is a passive heat sink which, unlike several alternative solutions, has a relatively low profile and fits under all discreet plug-in cards.


Despite the low profile, the radiator does a very good job of keeping the counter cool, which in turn enables a long maximum load without restricting performance. We would have liked to have seen a two-sided solution as the underside also gets hot.
The Viper cooler can be removed if you want to use the cooling solution from your motherboard. However, it is important to be careful and use the right tools. It is NOT recommended to try to break off the flange – plastic tools are needed.
Phison controllers and Toshiba-NAND
If we look during the cooling, we see that the disk is powered by first-generation Phison Gen 4 controllers in the form of PS5016-E16, which is supplemented with Toshiba's 96-layer TLC NAND and a DDR4 DRAM cache. This should give the disk a maximum read and write performance of 5000 and 4400 megabytes per second, respectively, with random performance of 800K IOPS.
As the disk is primarily aimed at gamers, it lacks hardware-based encryption, which would have given it a slightly wider area of ​​use. The disk, on the other hand, supports, a bit by default, SMART and TRIM and handles secure deletion. We can also download Viper's SSD Toolbox program, which is a well-functioning but tedious program to, among other things, upgrade its firmware.
Viper VP4100 values ​​in real life
We then move on to our real tests which we base on MSI's motherboards Meg Z590 ACE with an Intel i9-11900K and Viper's brand new DDR4 memory, Elite II, at 4000 megahertz.
We start with ATTO's benchmark where we see a clear performance acceleration around 16 kilobytes file size which is then topped with read values ​​of 4987 megabytes per second and write values ​​just under 4000 megabytes per second, which is slightly lower than promised.
What we notice, however, is that the disk has a very well-optimized cache as we can write large amounts of data without the cache becoming full. If we switch to IOMeter instead, the results will be slightly better with a peak rating for reading just over 5000 megabytes per second and writing approaching 4300 megabytes per second.
We continue with the device's latency that is on par with today's fastest disks when it comes to writing, with a minimum latency of 0.015 milliseconds. When it comes to the fastest random performance, the disk is slightly below promised with peaks of around 650K IOPS. This gives us a disk that, by today's standards, is the upper middle segment.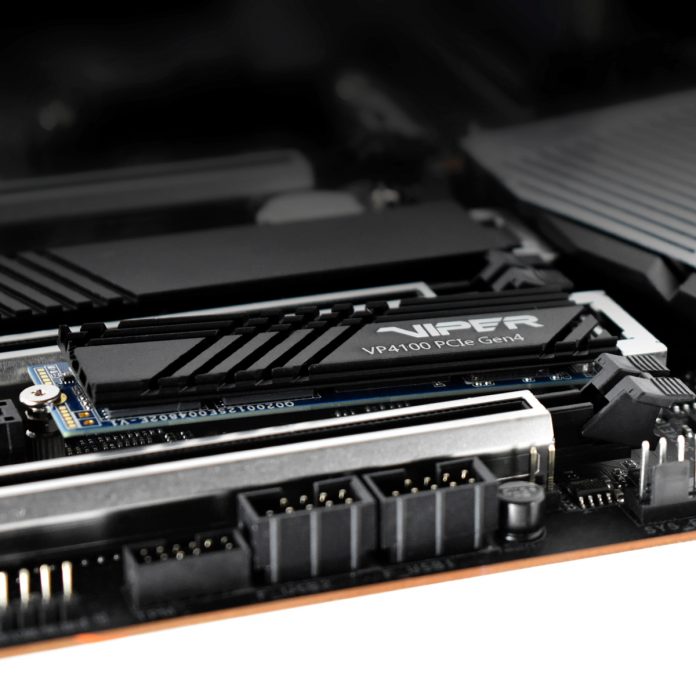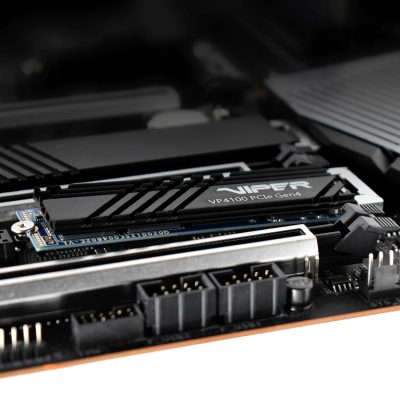 How does the Viper VP4100 compare to other disks on the market? Our test unit is one (1) terabyte and costs just under SEK 2,000. We will compare this with today's top models that can be bought for about ten percent more. If we then also add that these, newer disks have up to 20 percent higher performance, it is simple mathematics to state that VP4100 is an interesting choice, but would need to drop another 200 kronor in price to become a viable alternative, so find you it on sale it is a good buy.
Viper VP4100
For
Steady performance, slim profile with efficient cooler, low latency, good write cache.
Against
Need to drop a little more in price, a little difficult to remove pre-assembled cooler, dull included software.
Recommended to
Viper VP4100 is by no means a bad alternative and fits in both gaming and standard computers, but at the time of writing there are alternatives that provide more performance per invested krona.
SPECIFICATIONS Viper VP4100:
Manufacturer: Viper, www.vipergaming.com
Approximate price: 1990 kr incl. VAT, SEK 1,487 excl. VAT
Capacity: 1 TB
Check: PS5016-E16
Cooling: Passive
Guarantee: 5 years
Endurance: 1800 TBW
Highest read and write performance: 5007/4297 MB / s
Highest random read and write performance: 652K / 649K IOPS
Encryption: No
current prices are presented in collaboration with PriceRunner
[ad_2]