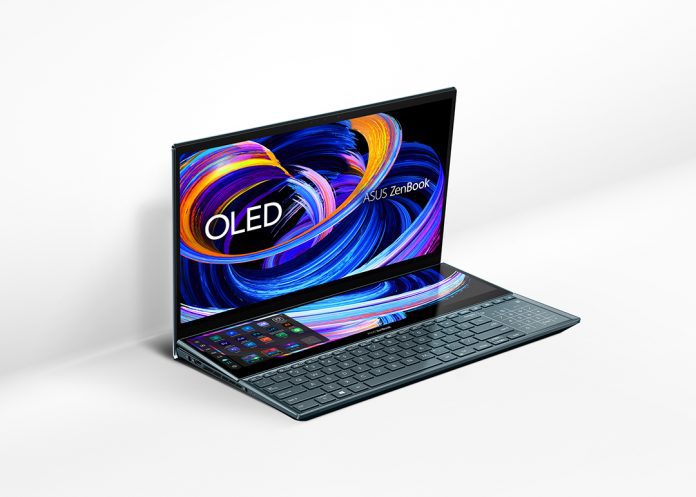 The Asus Zenbook Pro Duo 15 OLED is a rather odd bird with dual screens and powerful hardware, and now it is appearing in Sweden.
A few months ago showed Asus up Asus Zenbook Pro Duo 15 OLED which was not only a powerful laptop but a machine that had a new idea regarding the use of dual screens. What can be described as the standard laptop screen is a 15.6-inch OLED screen with 4K resolution, a contrast ratio of 1,000,000: 1 together with VESA DisplayHDR True Black 500 certification.
Located above the keyboard is an extra touch screen of 14.09 inches that is angled 9.5 degrees to make it easier for the user to reach. Asus calls it the ScreenPad Plus and has a resolution of 3840 × 1100 pixels with a brightness of 400 nits. The screen's main area of ​​use is to be an extra control panel for program functions and to display extra information if you use several programs at the same time.
Among the connections are, among other things Bluetooth 5.0, Wi-Fi 6 (802.11AX), two Thunderbolt 3 USB-C, a USB 3.
1 Gen 2 and an HDMI connector.
The Asus Zenbook Pro Duo 15 OLED is available in two different models. The more powerful of them has one Intel Core i9-10980HP processor, 32 gigabytes of DDR4 working memory, 1 terabyte of M.2 NVMe PCCIe 3.0 storage space and an Nvidia RTX 3070 graphics card with 8 gigabytes of DDR6 memory. That model costs SEK 39,999.
There is a budget model with the same hardware apart from the fact that it has an Intel Core i7-10870H processor, that model costs SEK 33,999.