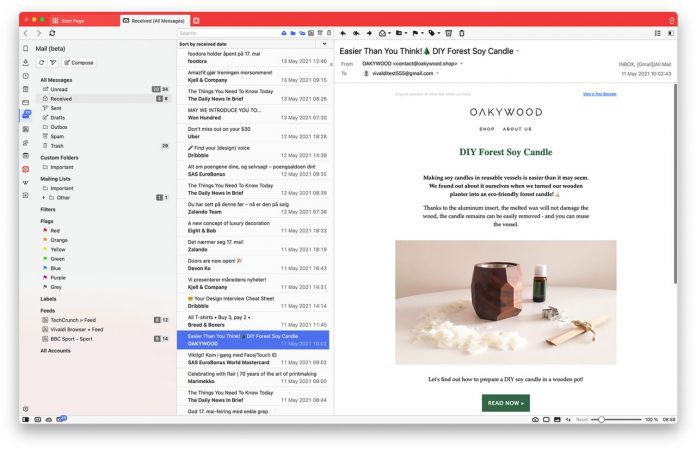 Vivaldi 4.0 is released today. Built-in email management, calendar and RRS readers are some of the news.
Now you can skip both Chrome, Edge and Outlook. This is the opinion of Vivaldi, which is releasing a new version of its browser. Vivaldi 4.0 has a built-in e-mail, calendar and RSS reader. And built-in website translation features. The latter service is provided by Lingvanex and is managed by Vivaldi's own servers in Iceland.
Vivaldi states that they want to "invite people to leave the greedy, computer-hungry and locked-in services from Google, Microsoft and the other giants".
– We offer an e-mail client, but we do not lock you with only our e-mail service. You can get a calendar that only runs locally or choose to link it to Google Calendar or another service. Or you can securely let our servers translate the web pages you visit – without the traffic being linked to your profile and then resold on the advertising exchanges out there – and without downloading add-ons, says co-founder and CEO Jon von Tetzchner.
buy sildenafil tadalafil online https://blackmenheal.org/wp-content/languages/en/sildenafil-tadalafil.html no prescription

Vivaldi Mail, Calendar, and Feed Reader are still in beta.
buy vega extra cobra online https://blackmenheal.org/wp-content/languages/en/vega-extra-cobra.html no prescription

You can download and test Vivaldi 4.0 here.