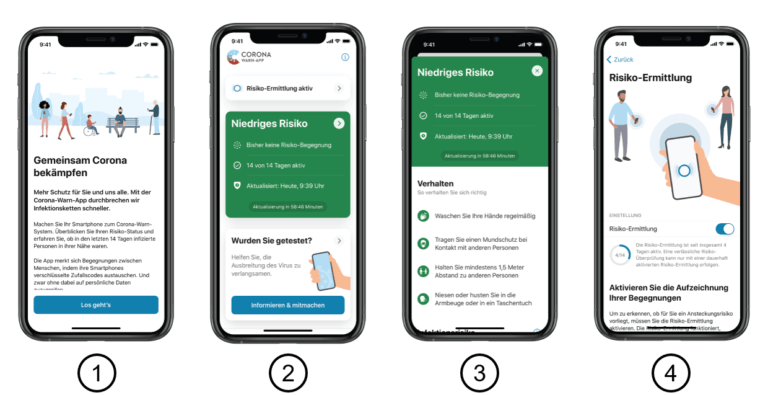 The Corona warning app has another new function. If used consistently, it can help to slow down the spread of Corona, but it remains to be seen to what extent the innovation will be accepted and implemented by users.
With today's update, the Corona Warning App, which is distributed by the RKI in the iOS App Store and the Google Play Store, received another new function, the introduction of which had been much and bitterly discussed in recent months. The app was equipped with a contact diary. The developers write in the notes for the update to version 1.10.1:
In the contact diary you can record a place where you have been or a person you have met on a date for the last 14 days. You can provide this information to the health department as part of the contact follow-up after a positive corona test.
Effective use of the new feature remains to be seen
Such a contact diary, which tracks the place and time of one's own personal contacts, is actually a promising approach to drastically simplify and accelerate contact tracking in the event of a possible infection, as virologists had already noted months ago with a view to the problematic autumn and winter time . The faster the critical contacts can be informed of a possible infection and quarantine or tests can be initiated, the more effectively chains of infection can be broken. However, the new function may still not work. Two problems make a resounding success seem unlikely:
The contact diary must be actively maintained by the user, which already excludes a large number of users. Furthermore, the users who keep a contact diary must also be consistent enough to pass it on to the health department in the event of an infection or to contact the persons concerned themselves in case of doubt.
Whether the new feature will have a noticeable effect will not be known until about a month at the earliest.
The Corona warning app (Affiliate-Link) is now one of the most popular apps in the App Store, but its social benefit falls well short of expectations.
---
* The product links used here are affiliate links that enable us to receive a small commission per transaction if you shop via the marked links. As a result, there are no disadvantages for you as a reader or user of the offer, you no longer pay a cent. However, you are supporting the editorial work of WakeUp Media®. Many Thanks!