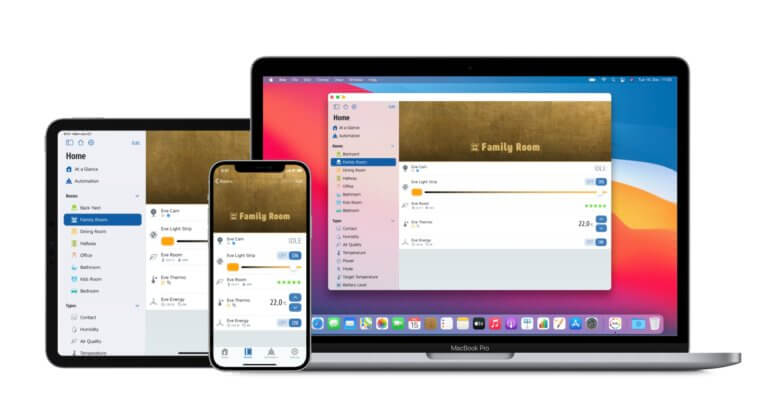 In 2020 not everything was bad and we can also remember the positive things. As a geek, I was of course very pleased that HomeKit in particular got a real boost this year. In addition to new products, there is also a real blast on the software side at the end of the year.
Version 5 of the Eve app: Now jumps to the Mac
Anyone who deals intensively with HomeKit quickly comes across all the inadequacies that the Apple Home app brings with it. Be it the UI or the ability to create more sophisticated automations. Accordingly, one is looking for an alternative and this is where Eve's app comes in.
Not only does it offer significantly more options, it is also by far the most beautiful app for HomeKit in my opinion. This has now received a comprehensive update and, thanks to Catalyst, is now also available for the Mac – but only for the Mac models that are equipped with an Apple Silicon (M1). Here are the release notes in the overview:
Comprehensive support for the innovations of iOS / iPadOS 14
Support for the screen resolutions of the iPhone 12 family
New native iPad sidebar
Support for Macs with an M1 chip
Dark app icon alternative, activated under Settings> Appearance
Further improvements
In addition to new features, Eve has also worked on general improvements, which you can find listed below:
Improved editing of schedules by Eve Thermo
Eve Light Strip schedule support
Optimized display of additional information in the room view for Eve Degree & Eve Room
The Eve app is completely free of charge and in my opinion a really recommendable download for anyone who wants to deal with HomeKit. In addition to the much more stylish UI, it is above all the functions that can be used to automate and set significantly more.
Shipment from thread
In addition, with this update Eve has created the prerequisites for equipping the first devices with the new mesh standard "Thread" for smart home devices. For this, the company from Munich has chosen the door and window contact Eve Door & Window. However, it must be a model from 2020, the chip is too weak on models from 2019 or earlier.
inline amazon id = "B07FMGSN4W"]
---
* The product links used here are affiliate links that enable us to receive a small commission per transaction if you shop via the marked links. This means that you as a reader and user of the offer do not suffer any disadvantages, you no longer pay a cent. However, you are supporting the editorial work of WakeUp Media®. Many Thanks!