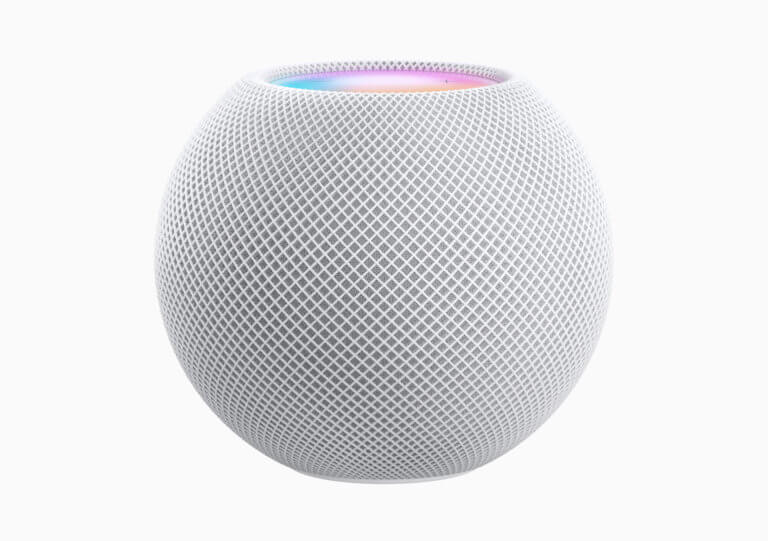 Apple also released HomePod 14.4 software tonight. This brings innovations especially for the HomePod Mini, but these can only be used in combination with an iPhone with a U1 chip.
Apple also released an update for the HomePod tonight. The HomePod software is now in version 14.4, which was previously also in a test cycle, which, however, ran separately from the usual betas and to which only a few users had access.
The HomePod software version 14.4 mainly brings innovations for owners of the HomePod Mini, provided they have a current iPhone.
U1-supported improvements from Handoff to the HomePod
The HomePod Mini (Affiliate-Link) has the U1 chip, this ultra-broadband chip is also used by iPhones from the iPhone 11 (excluding the iPhone SE 2020). An extended version of Handoff can now be used on the HomePod.
This is enhanced by optical, acoustic and haptic effects: If an iPhone with a U1 chip comes closer to a HomePod Mini while music is playing, it starts to vibrate, the faster the closer it gets to the HomePod, until the interface for handoff appears .
Furthermore, the controls for media playback are displayed on the iPhone without having to unlock it when you get closer to the HomePod and music suggestions are made. These features are not available on the original HomePod due to the lack of a U1 chip.
The update to HomePod software 14.4 will be automatically delivered to all HomePods in the next few days, but the update can also be initiated manually in the Home app if necessary.
---
* The product links used here are affiliate links that enable us to receive a small commission per transaction if you shop via the marked links. As a result, you as a reader and user of the offer do not suffer any disadvantages, you no longer pay a cent. However, you are supporting the editorial work of WakeUp Media®.
Many Thanks!